ACACIA VILLAGE QUARTERLY NEWSLETTER
Welcome to Under the Acacia Tree, our quarterly newsletter that shares news and information about what's happening at Acacia Village. Here, you'll learn about events at Acacia Village, recap recent outings and events, and get some helpful tips and advice for living your best life. Just click on the newsletter you'd like to read to learn more!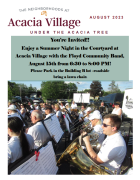 August 2023
In this edition, we'll share some exciting news with you on an upcoming expansion of Acacia Village, as we add to our Cottages and Garden Homes. And, we'll fill you in on recent activities, and share testimonials from family members of Acacia residents.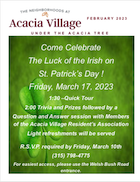 February 2023
In this edition, you'll enjoy a review of the book, "The Good Life" and how it relates to experiences at Acacia Village. And, find out the details of our St. Pat's celebration and how singing makes you happier!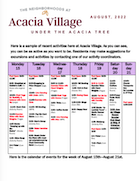 Staying active is important as we age. At Acacia Village, there is always something going on. In this edition, learn about some of the fun activities we plan with kids from the Masonic Care Community's Childcare Center. And, find out about Acacia ladies who box for cardio fitness!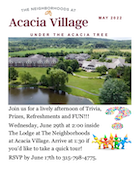 May 2022
Learn about some of our recent activities and outings, get tips on successful aging and living your best retirement life, and read about our resident-run newsletter – it has a new name, but the same great news!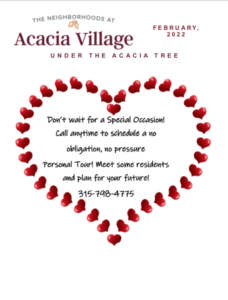 Learn about heart health, the importance of exercise, and how you can tour our facility. And, meet accomplished sculptor and Acacia Village resident Bill Whitehill.
August 2021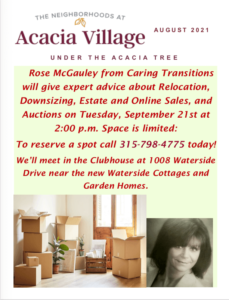 Learn about relocating and downsizing, and we'll share some practical advice on how to declutter your life!
May 2021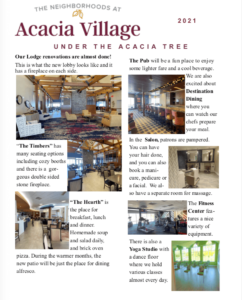 In this edition, we'll give you a recap of recent Acacia Village happenings, as well as some updates on our renovations.
August 2020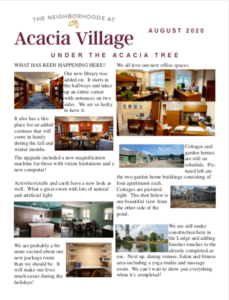 This quarter, we're talking about the importance of social interaction, and the effects on it from COVID-19.
February 2020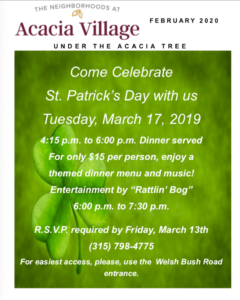 Learn about heart health and get a recap of recent events at Acacia Village.
November 2019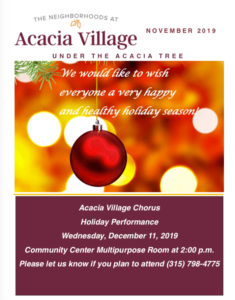 Happy holidays from Under the Acacia Tree! In this edition, we'll tell you about the remodeling of the Lodge and other projects around Acacia Village.
August 2019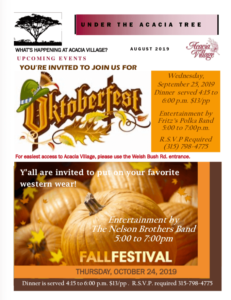 Learn all about the expansion plan at Acacia Village, and get a glimpse of blueprints for our Cottages and Garden Homes.
May 2019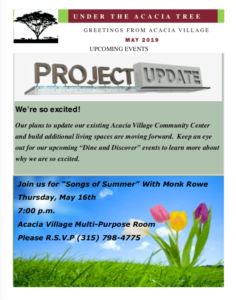 Did you drink your water today? In this edition, we'll talk about how important it is to drink enough water each day. And, we'll share news and recaps from around Acacia.
February 2019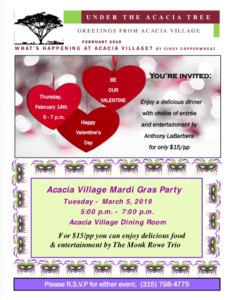 It's normal to feel lonely from time to time. In this edition, we'll give you some tips to help tackle loneliness and feel happier!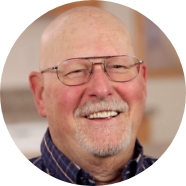 "One of the joys of being here is the comfort of being amongst friends."
- Tom Smedley, Acacia Village Resident
I'm interested in learning more about independent living.
I want to meet a member of your team and tour the beautiful campus.
 I have questions about life at Acacia Village.